By Jiayi Liang, Equity Analyst
Medicare, which was founded in 1965, is a federal program providing health insurance to all people over 65 and younger persons with certain diseases. Medicare Advantage (MA), which went to effect in 2003, is instead managed by private insurers. Although the federal government ultimately provides funding for Medicare Advanage programs, these programs are administered by private, for profit companies.
Unlike Original Medicare, the MA plans provide a more unified and convenient converge. They charge their beneficiaries 39% less compared to Original Medicare. Due to its affordable premiums, lower capped annual out-of-pocket, and distinctive benefits through the programs Virtual Visits, HouseCalls, and Navigate4Me, more people are willing to choose MA plans over the traditional one. The success of MA plans has been a boon many private insurers. As shown in the chart below, UnitedHealthcare is rated as the most popular Medicare Advantage provider with its unique value of having a full range of insurance and health services.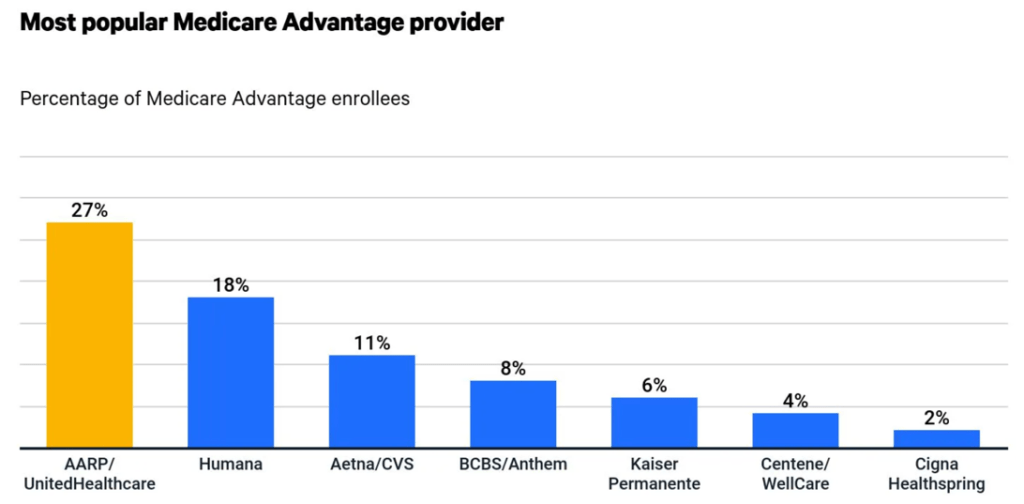 Over the last ten years, UNH has been rated as a "Strong Buy" with an annualized dividend growth rate of 24.47%, exceeding its sector by 221.99%. This growth rate is more than three times the current rate of inflation in America.
Additionally, the stock has a solid combination of growth and stability attributes: average debt-to-equity ratio of 66.95%, dividend payout ratio of 30.00%, dividend per share growth of 13.51%, cash flow per share growth of 5.79%, annualized revenue growth of 9.50%, net income growth of 18.15%, and P/E ratio of 22.01. These metrics leave United Health on very solid footing no matter what is going on in the economy at the moment.
Because of its overwhelming surge over the years, people may have the fear that the company has already hit its peak. With the widespread COVID-19 and inflation, here comes the question: is the stock headed for a crash? In the following, we are going to analyze from three aspects to see why the company's fast-paced growth is sustainable.
1. Life expectancy
The first reason why UnitedHealth is very likely to have sustainable growth is the increasing average lifespan in the United States. As shown in the chart below, life expectancy has risen from 69.84 years in 1960 to almost 80 years now. With sufficient food, better hygiene, and higher education, people began to realize the importance of keeping a healthy lifestyle. Based on the current trend, the future life expectancy is projected to grow continually, reaching 90 years at the dawn of the 22nd century.

The influential effects of increasing life expectancy on healthcare can be divided into two aspects:
Firstly, with people living longer, the Medicare program provides medical services for a longer period. This means sustained profits. When Medicare was in its start-up stage in 1965, most people who reached 65 and signed up for the program could only hold the card for less than 5 years before pasing away. By contrast, in the current society, the elderly could live 10 years longer and receive the subsidized medical services for 15 years. When we head into the 22nd century, the elderly will be able to reap the benefit of joining the Medicare program for almost 30 years. This increased customer volume implies a higher profit for the program due to a growing Medicare enrollment.
Secondly, not only does the program benefit from the longer service it provides, but it also achieves higher revenue through the more frequent use of services and rising healthcare prices. As people live longer, age-related disease, chronic conditions and dysfunction become more prevalent, causing much spending on healthcare.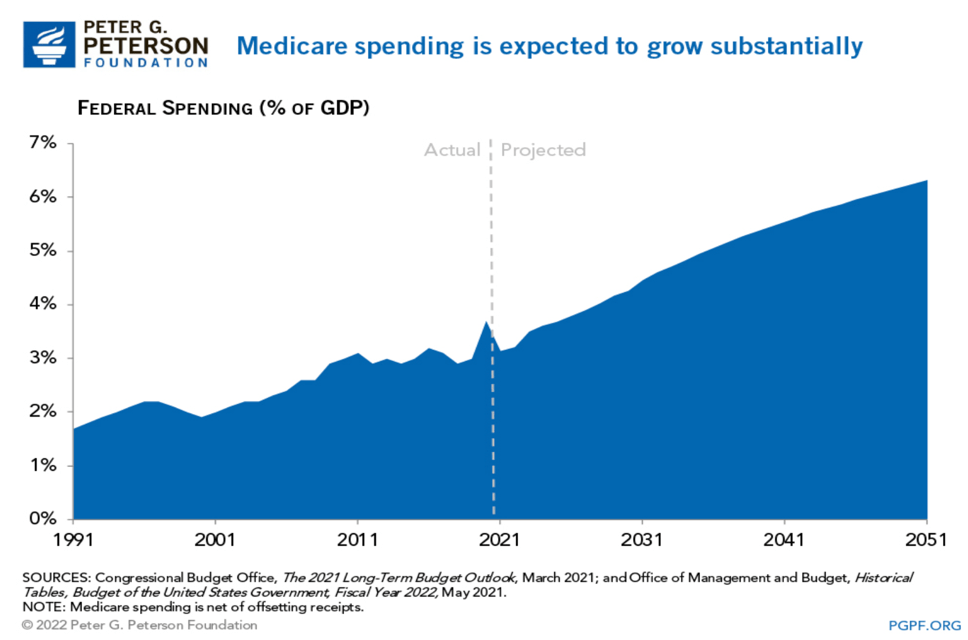 As demonstrated in the chart above, Medicare spending has rocketed over the past several decades, and is projected to grow drastically. In 2020, it surged to 3.5% of GDP, or $829.5 billion. This accounted for 20% of total national health expenditure, which grew to $4.1 trillion in 2020 or 19.7% of GDP. Nowadays, the elderly recipients have to distribute much more of their spending on hospital visits, which in turn means more funding from the Federal Government for Medicare programs.
2. Aging population and Baby-Boomers
The second reason for the promising future of UnitedHealth is related to aging population, especially baby-boomers. After World War II, about 77 million people were born between 1946 and 1964. Incredibly, 10,000 baby boomers are turning 65 every day, or 7 per minute. According to Pew Research Center, only 40% of all baby boomers were retired as of September 2020. This means nearly 60%, or 46 million baby boomers have not reached 65 yet.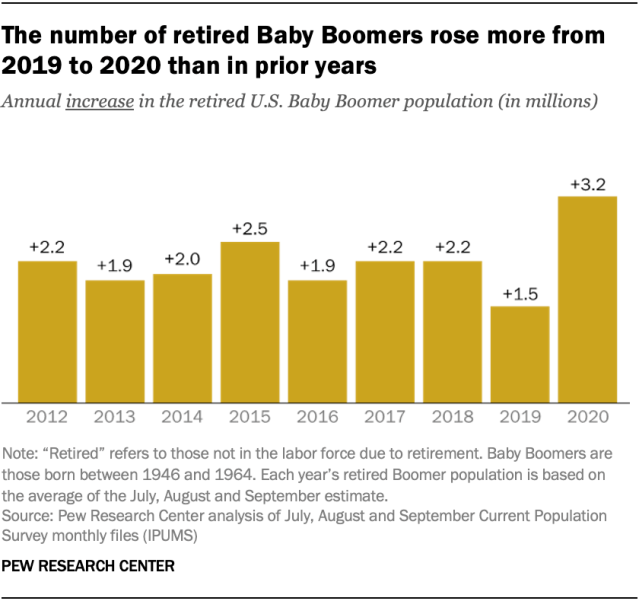 Based on the chart above, each year, the number of retired Baby Boomers exceeds the previous year by about 2 million. The trend is getting more severe in recent years: in 2020, the country lost 3.2 million people who born between 1946 and 1964 to retirement. The striking rate is projected to continue into 2030. The fast is: with the constant surge of medical needs, UnitedHealth is benefiting from secular tailwinds in healthcare.
If we link the current aging population situation to the longer life expectancy trend mentioned in the previous paragraph, the results become even more noticeable: in the next 10 years, 46 million baby boomers will report that they are out of the labor force due to retirement, and each of them is expected to stay in the Medicare program for almost 20 years. Thus, as the customer volume keeps growing in the future, UnitedHealth will still be the front-runner in a healthcare field that just keeps growing.
3. Technological Development
The third factor contributing to the sustainable growth of UnitedHealth is its subsidiary. Part of the UnitedHealth Group, Optum delivers high-quality health services aided by technology and data. According to the UNH Annual Review: "Our data is deep and dynamic with nearly 190 million lives of claims data and over 100 million lives of clinical data, including more than 6.5 billion medical procedures, over 18 billion lab results, and nearly 6 billion diagnoses." Having access to such an extremely large database, the company has an edge over its competitors to improve efficiency in healthcare. Optum serves its customers through three businesses: Optum Health, Optum Insight, and Optum Rx. We could see from the chart below that all three sectors have achieved a continuous increase in their revenues over the years. From 2013 to 2021, OptumHealth has grown from $9.8 billion to $54 billion, OptumInsight has grown from $4.7 billion to $12.19 billion, and OptumRx has grown from $24 billion to $91 billion.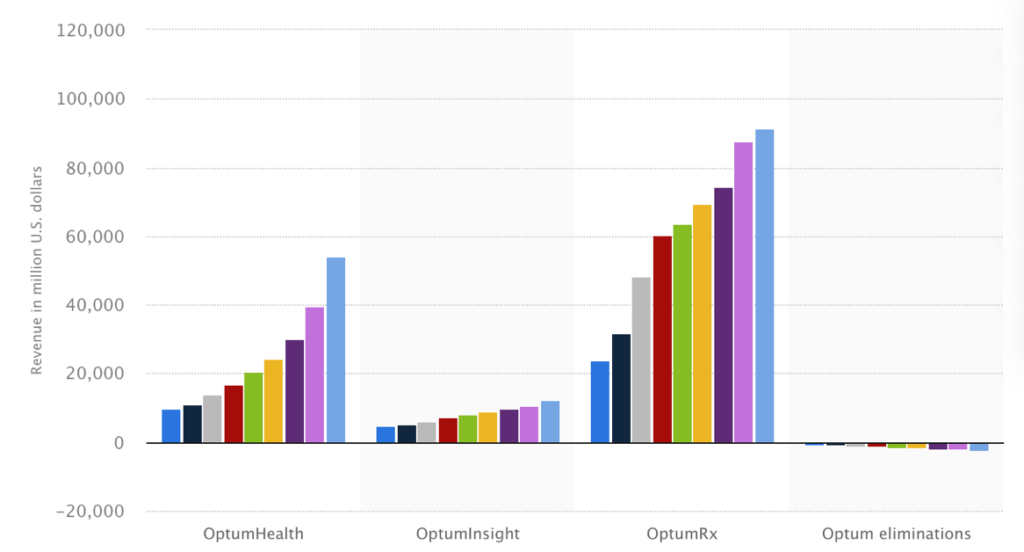 In the first quarter of the current year, Optum also had a strong performance with revenue growth of 18.9% to $43.3 billion. There is no doubt that with the assist of such a strong subsidiary, both the revenue and dividend growths of UnitedHealth are expected to keep soaring in the future.
Optum's growth is by no means a passing fad. As it sees using technology and data to provide insights as a core competence, the business has launched several programs with the missions of innovative research and machine learning to help customers achieve better health. Optum Insight provides data and software to hospitals and companies, aiming to improve clinical performance with lower administrative costs. Optum Labs were launched in 2013 to research and develop innovative solutions to prevent and treat disease.
Although it has gained wide popularity, Optum's moment has not arrived yet. It is very likely that in the near future, Artificial Intelligence (AI) will dominate health services. Optum is very well positioned to turn AI into a profit driver for years to come.
Conclusion
In short, the fear of a stock crash is unnecessary. Thanks to the success of Optum and a growing number of people flocking to Medicare Advantage plans, UnitedHealth will not stop shining. All in all, we are bullish on the company and its stock.